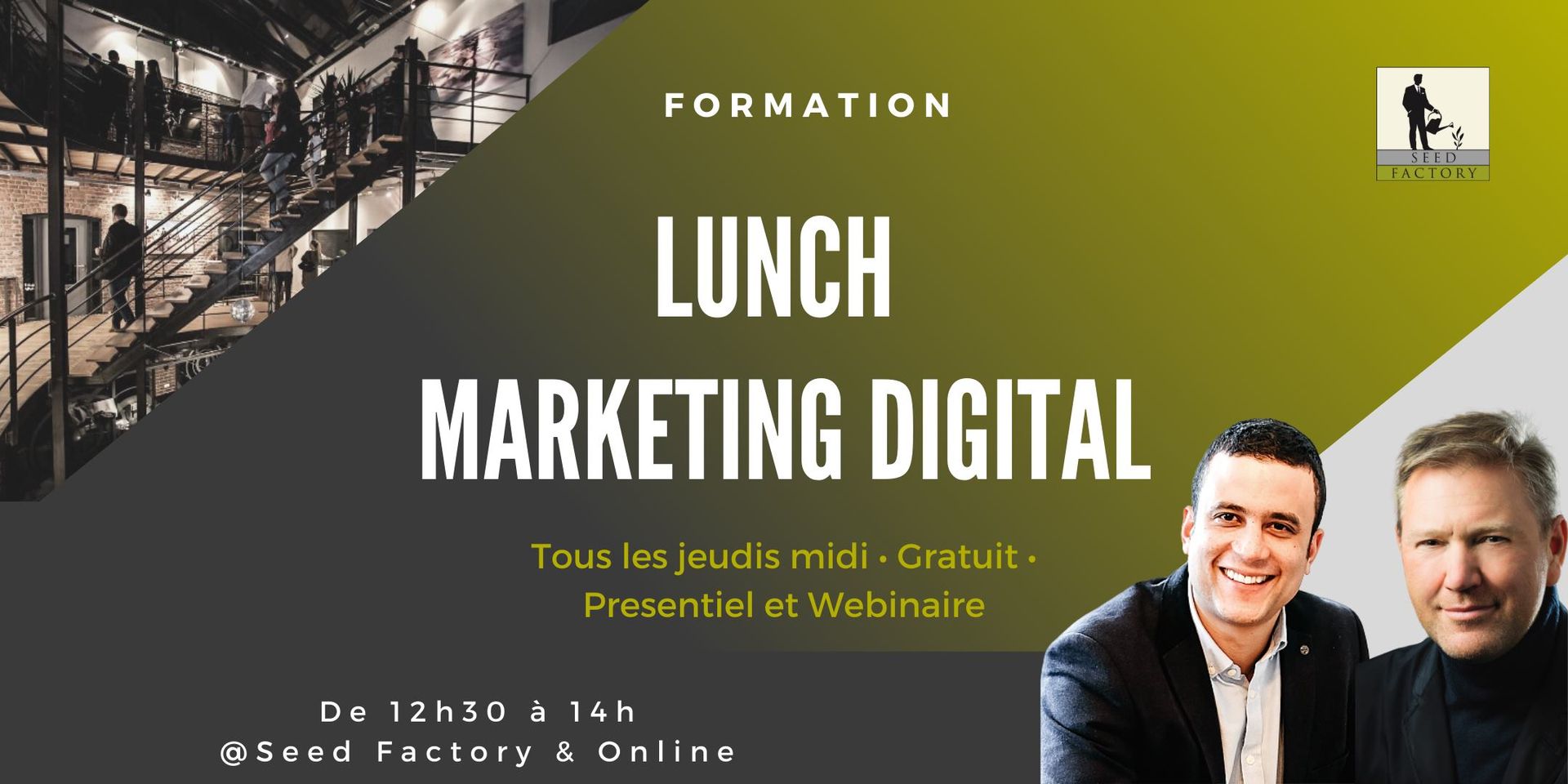 *** For Seed Factory members and their guests ***
Digital Marketing Lunch
Date: August 27, 2020
Timetable: from 12:30 to 14:00
Atrium - Seed Factory, Avenue des Volontaires, 19, 1160 Auderghem
Presential and online marketing training (free)
Today, digital marketing is an essential tool for companies to relaunch or prosper.
Your company or store is no longer the only sales channel. How do you attract customers online?
Your customers are no longer on the move. Social networks don't know quarantine.
Has your face-to-face training been cancelled? Webinars and teleconferences have become the norm. And online training platforms are more popular than ever.
Digital marketing isn't a miracle cure. It's a source of opportunity.
Here's an overview of what you'll learn
In each session, we cover topics such as:
What makes an effective website? What are the keys to measuring and improving website performance?
How to adapt your business model to digital? It's not about targeted advertising, growth-hacking or developing an application. The most effective recipes are often the simplest. Discover proven strategies accessible to all
The keys to web referencing (SEO, SEA and local referencing): With a few basic notions, you'll understand that SEO can be both a game and a powerful weapon. Not only can you boost your website's visibility, but you can also use SEO to "read customers' minds" and (legally) "spy" on your competitors' traffic. Don't deprive yourself.
How do you manage your social networking presence? Social networks can seem like a big forest, where it's easy to get lost and quickly become discouraged. This is often because you don't know where you're starting from or where you want to go. To succeed on social networks, you need to capitalize on what has already proven itself (provided you know where to look). Answer the questions people are asking (which you can easily find out with the right tools).
Tools and new technologies: To succeed in digital marketing, you need to know the principles that work in real life. Digital is like a loudspeaker. It's effective, provided you know what you want and who you're talking to.
This marketing training course is for you if :
You want to understand digital marketing and apply it to develop your business;
You want to develop your skills to become more effective in your job and collaborate better with your colleagues, partners or hierarchy;
You're looking for practical advice and are open to honest feedback on your positions.
About the trainer
My name is Tarik Hennen.
I'm a lawyer turned entrepreneur and consultant, having previously worked as a lawyer in European competition law.
Today, I mobilize my digital, entrepreneurial and legal skills to help my customers seize digital opportunities.
Constantly exposed to new projects and tools, I support people from companies of all sizes looking for advice and concrete solutions to improve their performance in digital strategy and marketing.
Since 2018, I've been running free weekly digital marketing training courses.
About SeedFactory
Seed Factory is the first business center in Belgium to bring together all communication professions.
Want to join the Seed Factory community?
Contact us at
edouard.cambier@seedfactory.be
vanessa.dereymaeker@seedfactory.be
Tel : +32 2 743 47 20