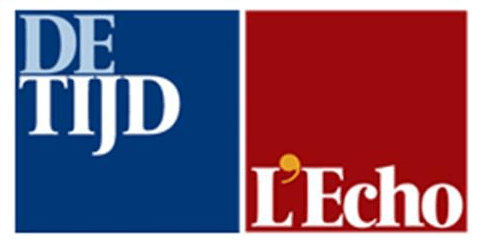 *** For Seed Factory members and their guests ***
How to co-create and innovate with L'Echo magazine?
Date: April 16, 2020
Schedule: at 2:30 p.m.
Video conference
We're offering a free videoconference for Seed Factory members this Wednesday 15/4 at 2:30pm with Maxime Samain Tech Editor @ L'Echo on the theme: "How to co-create and innovate with L'Echo magazine"?
Who's behind the Echo?
Mediafin records 10% growth thanks to increased readership and advertisers
Newspaper publisher L'Echo & De Tijd to invest 2.5 million euros in product innovation this year
Quality information pays off, especially in these days of 'fake news'. This is one of the main conclusions drawn by Mediafin when presenting its annual figures. Its sales rose by 10% in 2018 to €64 million, with a record EBITA profit of €11 million. This result is attributable to the group's strong growth in the readers' market, as well as higher advertising revenues. Mediafin intends to invest 35% of its net profit, or 2.5 million euros, in product innovation.
In 2018, Mediafin celebrated the fiftieth anniversary of De Tijd newspaper and the tenth anniversary of its lifestyle magazine Sabato. Building on this festive momentum, the media group today presents excellent results: sales of 64 million euros with a record EBITDA of 14 million euros.
Frederik Delaplace, CEO of Mediafin: "Investing in quality, multimedia channels and credibility, with no room for compromise, pays off. In these days of fake news, L'Echo & De Tijd are further cementing their reputation as Belgium's most credible business newspapers, making us even more unique. Others are widening the gap for us in the market, so we still have room to grow over the next few years."
6.2% increase in readers' revenues for L'Echo & De Tijd
Newspaper publisher L'Echo & De Tijd reported a rise in reader revenues for all its titles in 2018: a 7.2% increase for De Tijd, 3.1% for L'Echo and 7.2% for the magazines L'Investisseur and De Belegger.
Frederik Delaplace of Mediafin: "This growth proves that there is indeed a booming market for quality information in Belgium. De Tijd has been doing very well for several years now, and now L'Echo is following suit. We have succeeded in capturing the 'revival' of the French-speaking economy."
35% of net profit invested in digitization
Nearly 55% of readers of L'Echo & De Tijd newspapers read them digitally during the week and on paper at weekends. Digital consumption is on the rise, but paper versions of both newspapers and magazines still appeal to many readers, especially at weekends. The smartphone is also becoming an increasingly popular tool for deciphering the news. Mediafin has therefore decided to invest 2.5 million euros this year in product innovation. The company will also be taking a closer look at how mobile and digital technologies are changing consumers' news reading habits.
Frederik Delaplace: "Readers of L'Echo & De Tijd newspapers lead the way in terms of multimedia news consumption. The vast majority of our new customers opt for digital. Last year, 30% of our digital traffic was via mobile apps, compared with 50% today. The top priority for our investments in 2019 is therefore mobile and mobile again."
Advertising revenues of 34.8 million euros
Advertisers spent 13% more at Mediafin in 2018 than in the previous year, banking on the company's solid reputation for credibility in advertising too. Mediafin has expanded its range over the years and now offers new communication solutions. Thanks to its collaboration with the specialist services of Content Republic and the PR agencies Comfi, Bepublic and Bereal, Mediafin is no longer just a classic media group, but increasingly a professional communications consultant. This approach also explains why, in terms of advertising revenues, we are going against the grain.
Frederik Delaplace: "As a media group, we don't just want to offer advertising space, we want to think along with our customers right from the start of the communications project about the approach we adopt. And here too, credibility is the cornerstone of all our decisions."
Organized by Edouard Cambier, Vanessa Dereymaeker
Free videoconference via Zoom
Want to join the Seed Factory community?
Contact us at
edouard.cambier@seedfactory.be
vanessa.dereymaeker@seedfactory.be
Tel : +32 2 743 47 20