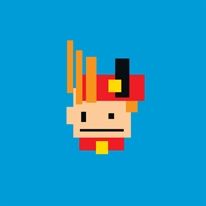 Intention - With this thematic exhibition featuring a who's who of illustrators, the Maison de l'Image is celebrating the 75th anniversary of SPIROU. True to tradition, it presents an impertinent vision, even if in the end the world of communication's tribute to our hero could only be vibrant and enthusiastic. Exceptional unpublished documents are also presented.
Contents - The Maison de l'Image invites a wide range of over 200 creators to its short list. A separate chapter is devoted to the world of Spirou and its authors. (originals on loan from MOOF (Musée de le Bande dessinée).
Template - Several templates are available (Spirou & Robbedoes). Each participant can choose the one that suits them best. They can also use another design of their choice. The only requirement is that the Spirou character be shown in a single image (no comic strips).
Catalog - This is offered free of charge to guests at the opening. Each participant will be featured on one page of the catalog, which will be sold out at the end of the exhibition, thus becoming a collector's item. See previous exhibition catalogs on our website.
Standardization - High presentation frame. 62 x 40 cm.
Copyrights - Participation implies authorization to reproduce the work in the catalog, in press releases, in media coverage, on the Internet, on blogs and in all other media that may contribute to the success of the exhibition. It also implies participation in future, as yet unknown, invitations to the exhibition in other countries. Copyrights apply to other exhibition venues.
Commissioners
Useful links