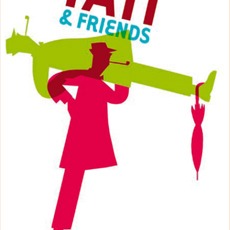 I contracted the Hulotte flu in 2004. I had placed Monsieur Hulot on his solex, as a wink, in the double-page spread of my first book published by Rouergue, Fait pour ça! The numerous reactions that followed this little "exceptional participation" showed that the great seductive power of this genial scatterbrain is not only exercised on me... but that it's contagious!
So it was only natural that I should give him his first role. Two years later, the children's album Le jacquot de Monsieur Hulot was released, a wordless ballad in the world of Jacques Tati. Adapting Tati's cinema into still images seemed to me a natural step. Indeed, the long silhouette, attitudes and gestures of the character of Monsieur Hulot naturally destined him for a paper version, for which the magnificent film posters designed by Pierre Étaix had already provided the premise. Then, Tati's approach to cinema, his attention to detail, his sense of observation, his interest in objects, his taste for architecture, his economy of dialogue and, above all, his art of the visual gag, reinforced my desire to see him evolve on paper.
Tati wanted his Hulot to get lost in the films of other directors, as in François Truffaut's Domicile conjugal. So perhaps Jacques Tati would have liked this exhibition, where some 100 illustrators, graphic designers and artists have revisited his cinema through his characters - Monsieur Hulot, François le facteur - or simply by echoing his refined sense of humor. My friends, thank you for helping me spread the Hulotte flu pathogen. Long live the epidemic!