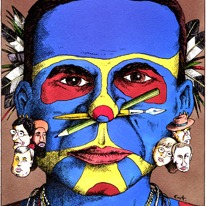 I leave it to my colleagues to describe the acuity of Cost's responses to the challenges of press illustration, and I trust them to describe his graphic quirks, both daring and rooted in art history.
There is, however, a third, unique element that gives Cost's images a personal coherence, and sets them apart from those of his colleagues. Whether it's the little man who, for a year, announced the arrival of the year 2000 in Le Soir, the numerous drawings awarded by Press Cartoon Belgium, the recent calendar for Le Journal du Mardi, or his contributions to Courrier International, the question of gravity is always raised.
Things, objects and beings are thrown into the air, where they remain frozen in the moment. It could be a photographic snapshot, but it's not, for the peculiarities of Cost's drawing are a constant reminder that this is a handmade image, elaborately crafted. Cost loves this paradox, which makes him close to Magritte, and it's no coincidence that their images have a certain family resemblance. Literally and figuratively, Cost's best images suspend space and time, seemingly distancing us from press cartoons.
But not so much, in the end, because the little plane that struck me so much at the turn of a page in Le Soir, some ten years ago, was perhaps above all an immobile (timeless) toy disguised as an illusion of horizontal speed (the event). Cost resolves the paradox of being topical, while at the same time offering spatial structures that levitate out of time. The event linked to duration. Vincent Baudoux Author, teacher at St Luc Bruxelles