La Ruche Qui Dit Oui: Auderghem's local farmers' market takes up residence at Seed Factory  
La Ruche qui dit Oui is a local farmers' market based on a network of direct exchanges between local producers and communities of consumers who meet weekly at temporary markets. 
We tell you more about this produce market and how it works. Come and visit us every Saturday at Seed Factory.    
La Ruche Qui Dit Oui Auderghem: Saturday's local farmers' market at Seed Factory 
La Ruche Qui Dit Oui is a web service that gives wings to short circuits. The online sales platform fosters direct exchanges between local producers and communities of consumers, who meet regularly at ephemeral markets.
What are the missions of La Ruche Qui Dit Oui?
La Ruche Qui Dit Oui lays the foundations for a short, local, participative and connected supply chain. 
Its 5 missions are :  
Support farm-based agriculture and local crafts.
Create the tools to give citizens the means to produce, distribute and consume in a fairer, more sustainable way.
Recreating social ties around food.
Give as many people as possible access to quality local food.
Support the ecological transition by relocating production.
Promote the exchange of ideas and knowledge about agriculture and food.
La Ruche Qui Dit Oui: how does it work? 
To purchase La Ruche Qui Dit Oui products, visit the online platform to place your order. Then pick up your products at one of the many ephemeral markets organized by La Ruche Qui Dit Oui. 
To make this possible, a whole organization has been set up: 
Don't have a Ruche Qui Dit Oui near you? Then all you have to do is start your own hive! 
Who is Mohamed Ahripou: the manager of La Ruche Qui Dit Oui in Auderghem? 
The Ruche Qui Dit Oui network relies on more than 1,500 local leaders who come from all walks of life, from all regions and who have experienced all kinds of career paths.
In Auderghem, the person in charge is Mohamed Ahripou
Mohamed is a discreet, energetic and generous man. Today, he works for the non-profit organization Man Natura, whose aim is to help producers and artisans (from organic or sustainable agriculture) to distribute and market their produce through short circuits. In addition to managing 4 beehives (the last of which will be launched on March 20, 2021 in the City2 shopping center in downtown Brussels), the association organizes the annual Brussels Food Festival (featuring street food, a farmers' and artisans' market, and a wellness area).
With a degree in marketing and communications from the ISEC business school, Mohamed began his career in the digital world in 1997 (he recalls that at the time this was known as "multimedia").
He met Edouard Cambier (who runs Seed Factory) when he was working at Roularta. They collaborated on the @dnet advertising network with Le Soir, l'Echo, le Tijd, les pages d'Or... and on the launch of the IAB (now known as BAM - Belgian Marketing Association).
Prior to his involvement with La Ruche Qui Dit Oui, Mohamed was involved in a number of web projects in both Belgium and France (with Webcity Belgique, Comparatel, Wikos). In 2009, Mohamed helped create and launch Europe's first LED lighting range under the HOMELIGHTS brand.
And since 2013, he has been combining his activities as a "Sales & Marketing" consultant with those of Man Natura asbl for the food side.
Who are the producers? 
A network of over 10,000 local farmers and craftsmen 
More than 10,000 farmers and craftsmen have chosen the Beehives to sell their produce direct to over 210,000 consumers. 
In addition to close customer contact, La Ruche also offers solutions tailored to the needs of professionals (adapted sales areas, inventory management, online sales and payment management solutions, etc.). 
Who is Jan Gelders from the DEN BOOGERD cooperative?
Each producer active in the network is unique. At La Ruche Qui Dit Oui in Audhergem, here is the profile of Jan Gelders from the DEN BOOGERD cooperative.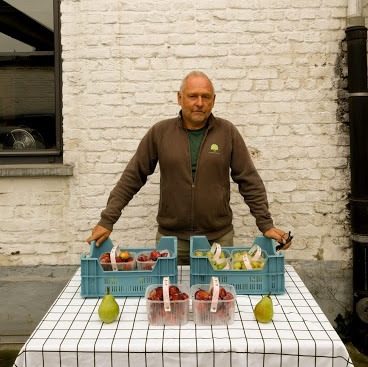 His profile is atypical: Jan is a former career soldier who has "laid down his arms" and is now busy planting and growing delicious apples and pears, as well as by-products such as juices, syrups, etc. 
Jan's experience makes him a demanding organic producer when it comes to quality. You can find him every week on the Auderghem beehive!
To discover other local producer profiles, watch this video. 
Where to find La Ruche Qui Dit Oui in Auderghem: at Seed Factory 
La Ruche Qui Dit Oui is located in the Seed Factory business center in Auderghem. 
Benefits
This venue is particularly convivial and offers many advantages for the organization of the organic market: 
Easy access by public transport: Seed Factory is just a few minutes' walk from Arsenal streetcar station or Pétillon metro station. 
Bicycle parking is available. 
The market is held in a spacious, covered area (the Seed Factory parking lot).
Practical information 
Opening hours: Every Saturday from 11 a.m. to 12:30 p.m. ;
Address: Avenue des Volontaires, 19, 1160 Auderghem ;
Home delivery: you can have your order delivered to your home on Saturday afternoons.
* * *
Are you looking for office space or a venue to organize your meetings in Auderghem? Find out what Seed Factory has to offer? Don't hesitate to contact us if you have any questions or if you would like to visit our premises.