Today, coworking represents a network of 26,000 workspaces and a community of 2 million coworkers. The trend continues to grow. Where does this new way of working come from? And where is it heading?
In this fascinating excerpt from Work'n Roll, the leading collaborative book on the future of work and offices, you'll discover how the workplace has evolved from an individual to a collective space, and what it could become in the future.
What is coworking?
Coworking is both a shared space and a collaborative way of working, bringing together people who are not necessarily colleagues, but who can work together on individual or joint projects. 
Coworking spaces are places for intellectual or material production, but also for meeting and exchanging knowledge between peers. Their members are generally start-ups, freelancers, micro or small businesses, or even salaried employees.
Coworking spaces share certain characteristics with other structures that preceded them: medieval monasteries, Renaissance artists' studios, coffee houses in Stuart England, chambers of commerce, business centers, incubators or, more recently, cybercafés. 
Coworking first appeared in the mid-1990s, but really took off in the 2010s. By 2020, it is estimated that there will be 26,000 coworking centers worldwide, occupying 20 million square meters.
The birth of the coworking concept
The predecessors of coworking centers, business centers first appeared in the USA in the 1960s. Like (future) coworking centers, they offer workspaces for rent in buildings managed by third parties, usually furnished, with facility management services.
Like coworking spaces, they offer flexible rental formulas: additional office space or a meeting room can be rented at short notice, sometimes for one or two hours. Business centers are generally located in the business districts of major cities and close to transport facilities (notably airports and railway stations).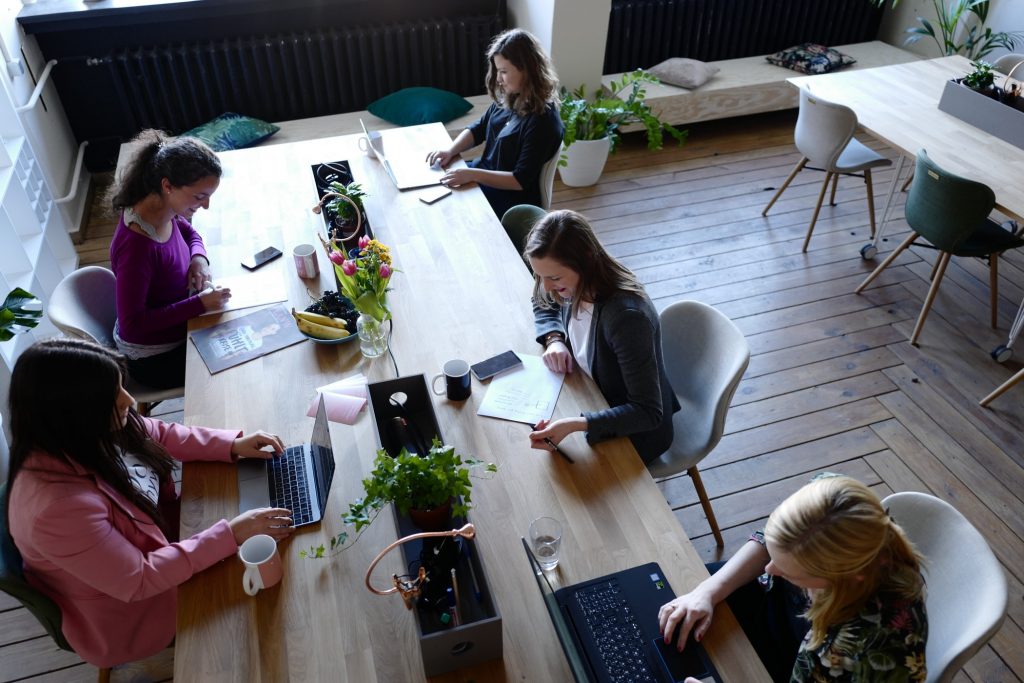 The move towards telecommuting and flex office
Freed from the technical constraints of having to travel to the office, some workers are given the opportunity to carry out their tasks at home, either occasionally or on a regular basis. At first, it was executives who enjoyed this "favor", but where the corporate culture allowed it, telecommuting began to flourish. We're starting to talk about WFH(Work From Home) and even WFA(Work From Anywhere). It's just as easy to work "hot desking" as it is to work from home, from a café, and why not from the beach or a public garden, as long as you've got a good Internet connection.
At the same time, new shared workspaces are developing, in third-party locations offering all the facilities of an office: coworkings, business centers and their various incarnations. In the 2010s, these coworking spaces were also among the first to adopt a new trend in office design: the "flex office". This is a workspace - generally an open space - combined with a flexible, easily reconfigurable space, suitable for a variety of functions: private offices, meeting rooms of various sizes, telephone booths, lobbies and lounge areas set up to enable work as well as meetings and relaxation.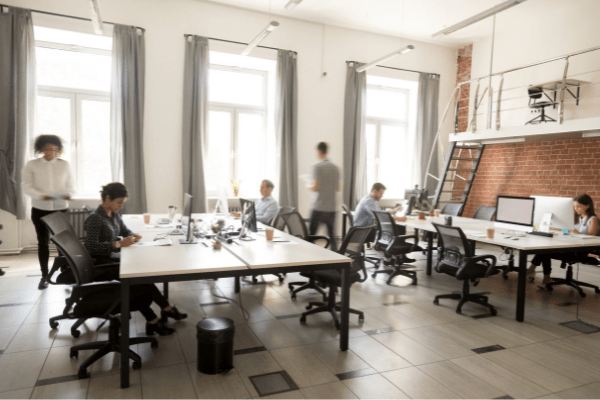 Teleworking and the office concept
The widespread use of telecommuting will change the role of the office, making it more a place for meeting, exchanging ideas and collaborating, and less a place for individual work. Flex office design is in line with this trend. 
Large tertiary companies and technology startups are the most likely to adopt telecommuting. Mixed companies (both primary or secondary and tertiary), SMEs and companies based on a strong collective identity are less likely to do so. 
The integration of new technologies, including virtual reality and artificial intelligence, will enhance the collaborative teleworking experience and make it easier to implement. 
Buildings themselves will undergo a technological evolution focused on sustainability, digitization, health and safety, thanks to advances in new real estate technologies, known as "proptechs". 
In the longer term, large-scale telecommuting could also lead to changes in housing to ensure good working conditions at home. 
In turn, these changes in working patterns should lead to changes in legislation to adapt to the realities and needs of teleworking.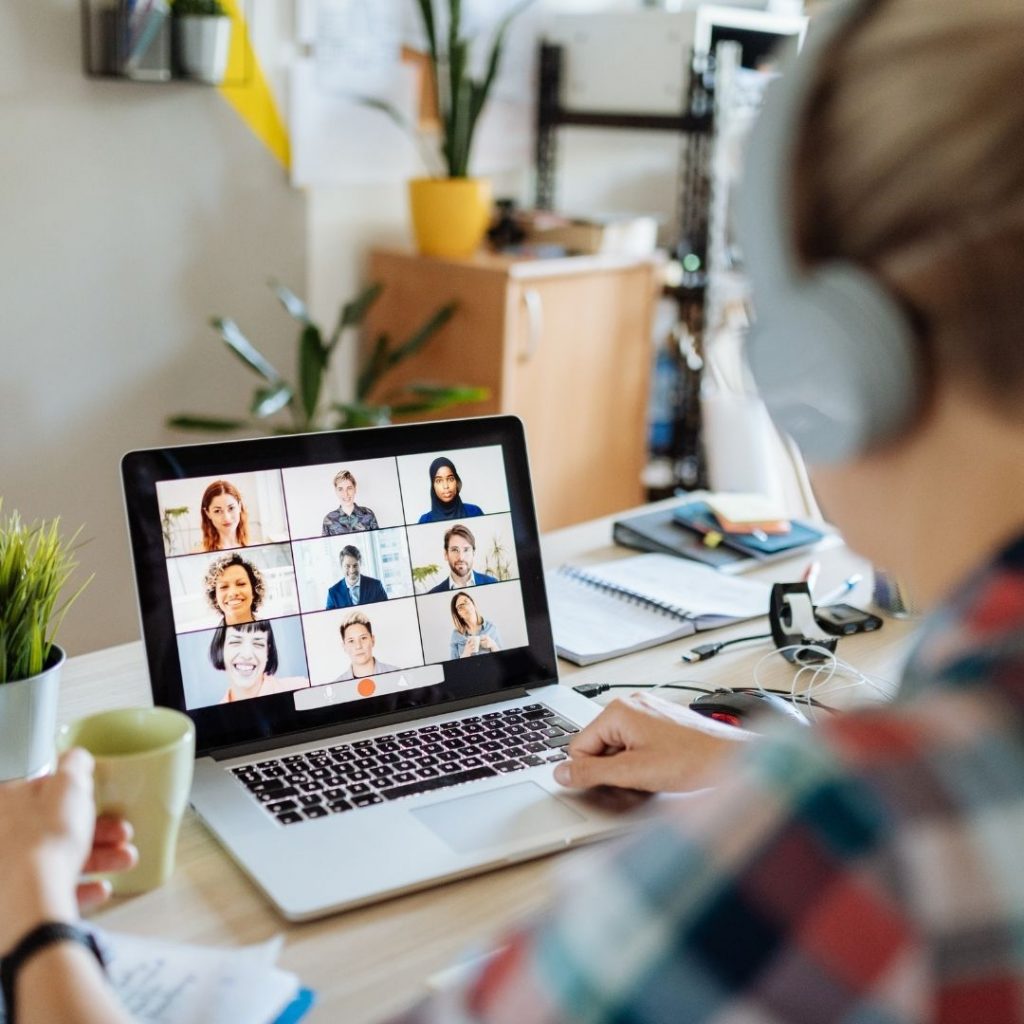 Office developments over the next few years
The evolution of offices over the coming decades will be influenced by four major trends, which we refer to here as "transitions", and which will determine the future of human societies as a whole:
Ecological transition: the need to implement a sustainable development model, and in particular the need to mitigate global warming, will require an "ecological rationalization" of offices and working practices, notably by reducing energy consumption. 
Demographic transition: the emergence of Generation Z means the entry into working life of a new generation of workers, more digital and probably more committed to environmental, ethical and social causes. A generation that favors notions of access or use over ownership (co-living, car sharing, coworking...).    
Technological transition: the NBIC revolution (nanotechnology, biotechnology, computing and cognition) is paving the way for the integration of new technologies in the office, including augmented reality, the Internet of Things and artificial intelligence. The nature of work itself could change, even if its eventual "disappearance" seems unlikely.
Social transition: the covid-19 epidemic has highlighted certain socio-professional inequalities, which could be exacerbated by new health or environmental crises. Social instability represents a risk for companies, while diversity appears as an opportunity to be seized.
Source : WORK'N ROLL - Where do offices go from here? ? Edouard Cambier, in collaboration with Jean de Renesse and Emmanuel Robert
Your coworking space in Brussels
Would you like to work in a coworking space in Brussels? Find out more about the Seed Factory business center, Belgium's first coworking space for the communications sector. Don't hesitate to arrange a visit with Edouard Cambier and his team by phone or via their online form.